PURETi's Newest Air Purifying Surface: Out of Home Media
Naked juice packs some 'good' into latest OOH campaign with environmental Giant Poster, Scala House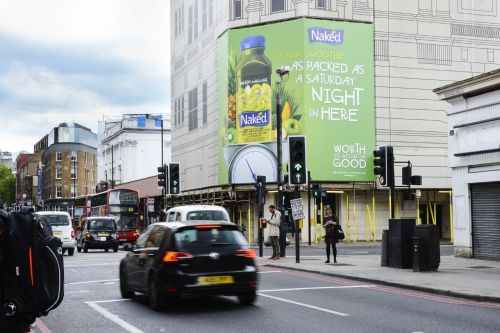 Naked Juice has brought to the streets an eye catching Giant Poster showcasing one of their fruit smoothies that is not only good for the consumer, but is doing good to clean-up the air pollution surrounding the poster.
The advertising material has been treated with PURETi, a photocatalyst that reacts with natural UV light to eat pollution which not only enables the poster to clean the air around it but also keeps it cleaner.
Scala House is located on the busy Pentonville Road which runs between London's King's Cross and Old Street 'Tech City,' bringing the healthy fruit juice brand to its millennials market in an environmentally friendly way.
The campaign, planned and bought by OMD and specialist agency Talon, is the first time that Naked Juice has used Giant Posters, and they are making this one count.
blowUP media sales director Simon Russell says: "This is the perfect match of an exciting progressive brand, key audience delivery and a new Out of Home product that's demonstrably better for the environment.
"It could turn out to be a landmark in OOH for the UK."
PURETi UK Director James Pack said: "We are delighted to see the use of our technology in this medium improving the local environment and supporting the environmental credentials of all stakeholders involved."